InterContinental Hotels Group Gift Card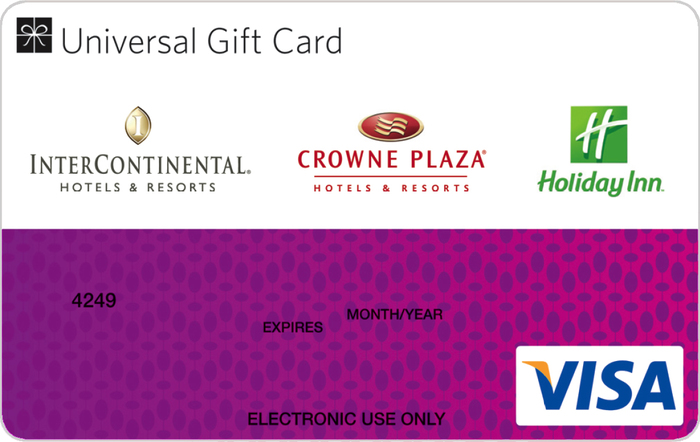 InterContinental Hotels Group Gift Card
Now there's a gift card that can be used in all InterContinental, Crowne Plaza and Holiday Inn Hotels & Resorts across Australia, New Zealand and Fiji.
And it's not only for accommodation, it's for bars and restaurants, room service and in-room movies.
Everything you love about these hotels can be redeemed with this fantastic, new gift card.

So what are you waiting for? If you enjoy their hospitality, wrap it up and give it to someone you love. Click on the card image to select the denomination you wish to purchase.

Find out more about IHG Hotels Gift Card. For full terms and conditions for the purchase and use of IHG Hotels Gift Cards,click here.
Universal Gift Card
The Universal Prepaid Card is twice as popular as cash and single-store gift cards; and four times as popular as merchandise.
Flexible: use the card at any store that accepts VISA or EFTPOS – unlike a store card or voucher which is limited to purchases at that store. "Even a department store doesn't have all I want. And the nearest David Myer store is 45 minutes away."
Ultimate choice: buy whatever, from whomever, whenever
Convenient: use the card immediately – no need to cash a cheque
Special: keep gifts, rewards and incentives separate from general household funds
No unwanted gifts
Secure: Universal prepaid cards are more secure than cash or store cards or paper vouchers. Lost / stolen VISA cards can be replaced
Sense of pride: recipients will show off their card to others
Easy: to check card balance or transactions – either online or by phone