Universal Visa Gift Card Plant a Tree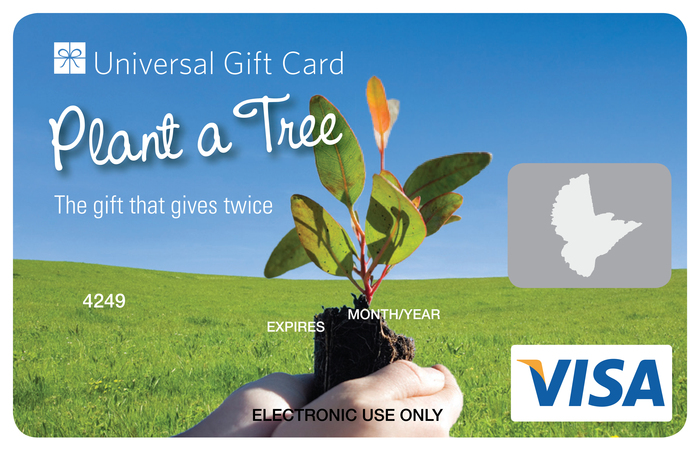 Universal Visa Gift Card Plant a Tree
The Plant a Tree Universal Prepaid Visa Gift Card is the gift that gives twice – it helps you protect the environment by planting a tree on your behalf, in addition to allowing the recipient to buy whatever they want in any store, whenever they wish to shop.
Why people prefer Universal Visa Gift Cards?
Its more powerful & memorable than cash
Has a great trophy value: every time it is used, the recipient is reminded that you gave them this gift!
The perfect gift or reward: it gives your friends, family, loved one and colleagues the opportunity to choose their own perfect gift.
Universal Prepaid Visa Gift Cards are accepted everywhere Visa prepaid is accepted. The Universal Prepaid Visa Gift Card can be used at over 25 million stores worldwide plus the Internet. Universal Visa gift cards are single use prepaid debit cards.
Universal VISA Gift Card
The Universal Prepaid Card is twice as popular as cash and single-store gift cards; and four times as popular as merchandise.
Flexible: use the card at any store that accepts VISA or EFTPOS – unlike a store card or voucher which is limited to purchases at that store. "Even a department store doesn't have all I want. And the nearest David Myer store is 45 minutes away."
Ultimate choice: buy whatever, from whomever, whenever
Convenient: use the card immediately – no need to cash a cheque
Special: keep gifts, rewards and incentives separate from general household funds
No unwanted gifts
Secure: Universal prepaid cards are more secure than cash or store cards or paper vouchers. Lost / stolen VISA cards can be replaced
Sense of pride: recipients will show off their card to others
Easy: to check card balance or transactions – either online or by phone